Hey ladies and gents (if there's gents reading this - you truely are gents, cuties!)
Everywhere I turn now I'm hearing the phrase 'wanderlust'.
My manager is Australian and says that Australians are born with 'wanderlust'
I'm just sitting there like 'wander-whut?'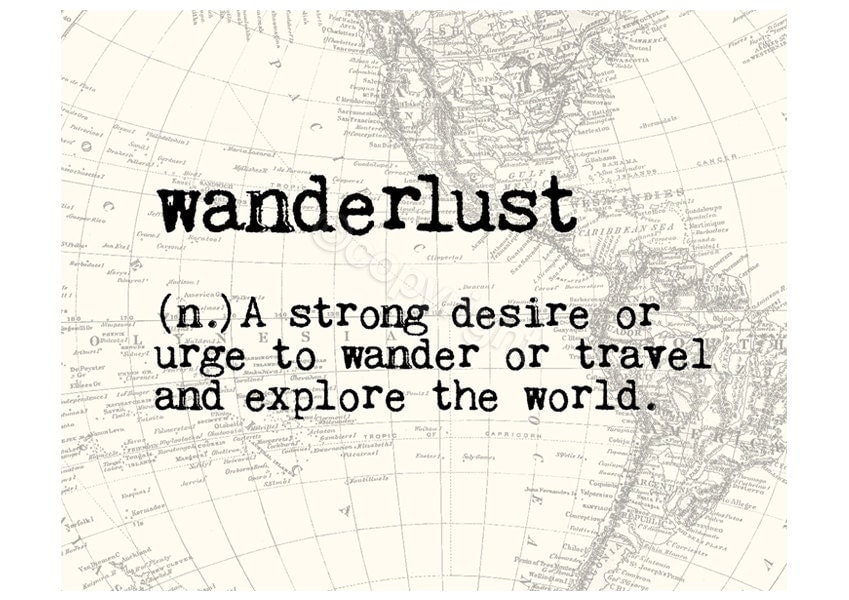 So it's the strong desire to wander/explore the world.
This is something I'm definitely growing into.
For quite a long time I had serious issues with flying - panic attacks, projectile vomiting, hysteria. You know, casual symptoms of fear?!
But when I moved to Manchester I had to get over it, I had to fly alone.
And guess what? I'm okay with it now!
I have the biggest urge and desire to travel, and hopefully one day (when I win the lottery/find rich travelling partner/somehow manage to get my finances in check) will get the opportunity..
So I thought I'd do this tag and get thinking about where I want to go and explore...
Where was your first plane to?
The lovely isle of Jersey. I think I was three? I don't remember much from that holiday except that in the zoo in Jersey my pram was hi-jacked by monkeys. True story.
Where have you travelled to that you would love to visit again?
Easy - California/Nevada! I was ten when I journeyed across to the West Coast of America. Being ten in America in 2002ish doesn't get you much, yes you get to go to Disney and Seaworld and Legoland, and every souvenir you brought back was adorned with The Powerpuff Girls (I swear, I'm talking clothes, books, CD case, backpack). But now I'm 22, and obviously of the legal drinking age in America (WOOHOO, official sign you're an adult) I want to go back to Las Vegas and have a proper blow out. Also I want to go back to Los Angeles and stalk Kim Kardashian and her family. WHAT A GIRL GOTTA DO TO GET ACCEPTED INTO THAT FAMILY.
You're leaving tomorrow, money is no object, where are you going?
The Caribbean. All my friends, all my family, maybe invite Rihanna along. WE GON' HAVE A CARNIVAL. It's heaven on Earth, from the photos I've seen anyway!
Preferred method of travel; planes, trains or car?
Am I weird that I love trains? Like I mean decent trains. I'm talking first class from Manchester Piccadilly to Euston type situations here. And if they were faster. You get to see SO much more on a train. I was in Switzerland in October and the train we took to Vevey went the whole way around Lake Geneva. It was increds.
Favorite travel website?
I can't lie, it's not exciting. It's Easyjet. Can't get enough of those big sexy orange planes that fly me to the homeland and back. It's not my favourite out of choice, but it's definitely my most used.
Where would you travel to just to eat the food?
I am such a foodie - mentally. I LOVE cooking programmes and food. In reality I'm a chicken when it comes to trying things, but in my head I'd love it. I'd probably say Australia? Some of the dishes they create on Masterchef Australia BLOW ME AWAY. They have so many inspirations from across the globe in their cuisine, that I just want to try it.
Is there a place you would never go again?
I've never had a holiday that was so bad that I would never go again... Benidorm maybe if I had to choose? I think it's one of those places you need to go to once, experience it, come home, wash yourself clean and then never relive it again.
Can you recite your passport number from memory if asked?
I'm quite weird, and can remember numbers/postcodes/addresses/random shit quite easily. But I don't fly on my passport that regularly, as I live in Northern Ireland and usually fly domestically (i.e to England) I fly on my driving licence! So I can repeat that number, but not my passport number!
Do you prefer the window, aisle or middle seat?
Definitely the aisle, I love being able to stretch my legs out, even though I've got relatively short legs it's really satisfying! I hate the middle seat, I always get into elbow wars with the people on either side of me!
How do you pass the time on an airplane?
Always a magazine, buy it at the airport, read it on the plane, and give it to the air hostesses as I'm getting off. It's turned into a bit of a tradition! If I'm knackered though I will sleep and probably drool on someones shoulder (sexy); and then nearly have a heartattack when the plane touches down and we hit the runway. I've screamed before it scared me that much when I woke up. Awkward.
After doing that tag I'm now desperate for a holiday somewhere exciting...
If only I could win the lottery and be able to satisfy my travelling cravings!
Hope you all enjoyed this tag!
Is there anyone you've been that you would recommend?
Or anywhere you would love to go?!
Let me know in the comments! xx